Purifying Ritual
Regular price

Sale price

$41.95
Travel sizes of our Purifying Ritual skin care kit
For all skin - especially blemished, congested, oily and/or teen
Tea Tree Gel Cleanser, Lemon Thyme HydroSoul, Pomegranate Repair Serum, Light Moisture Replenishing Fluid, Blemish Purifying Serum, Green Tea Clay
Our Purifying Ritual is formulated with soothing, detoxifying, nourishing and restorative botanicals to soothe symptoms associated break-outs, over-processing, and congested or acne-prone skin with up to 14 days of application.
The pillars of the Purifying Ritual:
Tea Tree Gel Cleanser - 1 FL OZ/30 ML: With sea buckthorn, calendula and chamomile extract, and steam-distilled essential oils of tea tree, lavender and lavandin. A non-detergent gel ideal for deep cleansing skin without stripping protective oils. Developed for impure skin, it is also an effective choice for those who simply prefer a lightly lathering cleansing gel.
Organic Lemon Thyme Facial Tonic HydroSoul - 1 FL OZ/30 ML: Part of a holistic protocol for blemish-prone, teen, congested and impure skin. Sweet and refreshing notes of lemon. Minimizes appearance of pores, absorbs excess oil, hydrates, tones and enlivens.
Organic Pomegranate Repair Serum - 0.13 FL OZ/4 ML: Nourishing and luxurious, this regenerative oil helps restore radiance, tone and suppleness. Pomegranate, sea buckthorn berry, and rosehip seed oils offer significant amounts of essential fatty acids, carotenes, tocopherols and phytosterols. Extremely effective daily treatment for blemished, dry, dehydrated, sensitive, sun-damaged and/or scarred skin.
Organic Blemish Purifying Serum - 0.06 FL OZ/2 ML: An effective spot treatment choice for teen, impure or blemished skin. Helps purify blemishes without irritating sensitive skin. No drying alcohol.
Green Tea Clay - 0.17 OZ/5 G: Pure, organic & highly mineralized Matcha green tea powder combines with activating, pure Green Montmorillonite clay to create an exfoliating antioxidant treatment that effectively replaces harsh acid peels. Applied once a week, a mask purifies, tones and firms, while providing deep nourishment to help support and strengthen the cells of the skin. It also increases circulation and oxygenation to the surface of the skin.
Light Moisture Replenishing Fluid - 0.5 FL OZ/15 ML: Nutritive oils, aromatic hydrosols, energizing Flower Essences & activating botanical extracts combine to provide the ideal choice for moisturizing normal to oily and sensitive skin conditions. Absorbs quickly, goes on smoothly, doesn't congest pores and balances the natural oil content of the skin.
Share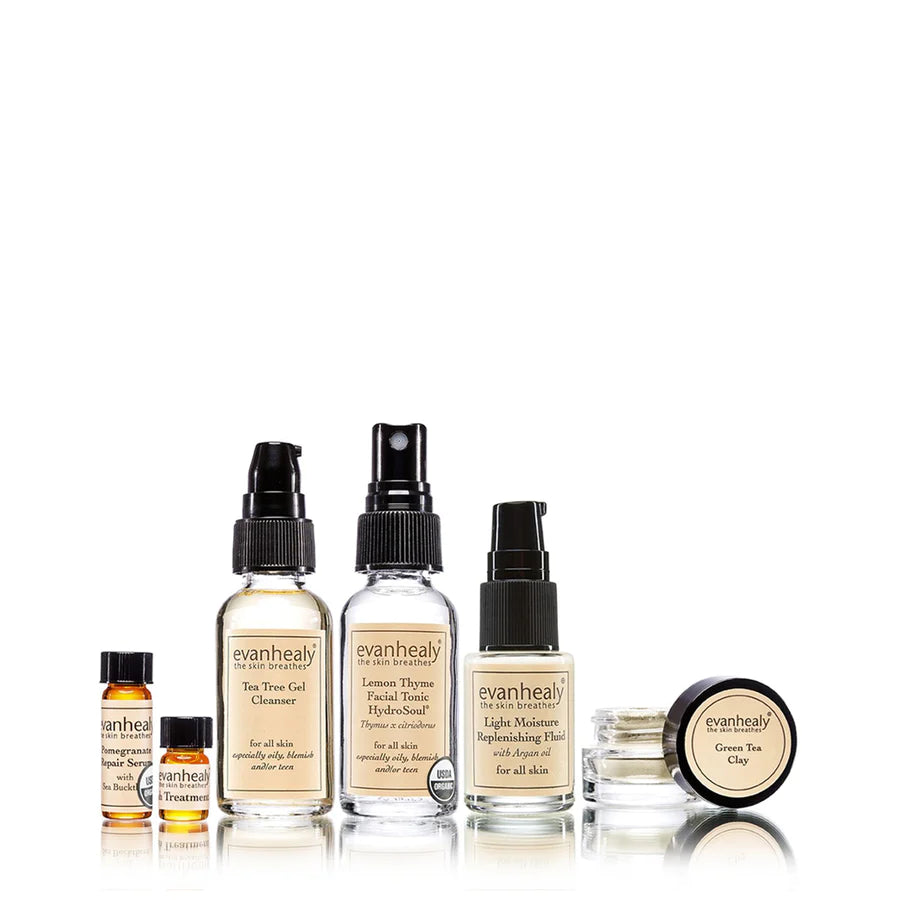 Guarantees
Organic

Handcrafted in small batches to maximize quality and freshness

Recyclable Packaging

Packaged with the environment in mind